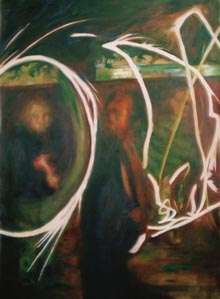 "Fire Work Night" by Tom Nowell.
Flux, Flow, Flight - Art in Motion
8 October 2011 - 22 January 2012
The latest Orleans House Gallery exhibition is ready for take off! Flux, Flow, Flight: Art in Motion explores the theme of physical movement in the visual arts, dance and performance. With works spanning four centuries, the exhibition includes historical contextual items from the Richmond Borough Art Collection, the Royal Ballet Lower School, White Lodge, Richmond, the Estorick Collection of Italian Art, London and The Muybridge Collection at Kingston Museum. Photographic experiments, Futurism, Dadaism, Vorticism and Surrealism are all represented, including Hans Richter's 1947 classic, popular avante garde masterpiece Dreams That Money Can Buy, featuring sections by Duchamp, Ernst, Calder and others.
The first Futurist manifesto was published by Marinetti in 1909, and the introductory area of Flux, Flow, Flight pays homage by visualising Futurist themes. This year also marks the centenary of Marcel Duchamp's ground breaking retinal and conceptual explorations depicting movement through form, space (and mind) in two dimensions and paint.
Other themes include automatic art, biomorphic naturalistic shapes, Op art, Pop art, urban bustle, the body in motion and of course 'flux', 'flow' and 'flight'.
Invited artists include sculptor Anthony Heywood, painter Ashley Davies and Jackie Matisse (Jacqueline Matisse-Monnier) - granddaughter of Henri Matisse, daughter of art dealer Pierre Matisse and step-daughter / assistant / archive keeper of Marcel Duchamp.
Jackie/Jacqueline's delicate, poetic works are the bridge between modernism and post modernism. She is a pioneer of kite art, kinetic art, stereoscopy, supercomputing and virtual reality. Now 80, her most recent exhibition in New York was a homage to American dancer/choreographer Merce Cunningham, who died in 2009. Matisse has seldom exhibited in the UK, so this is a rare privilege to enjoy a small selection of her kite tails, mobiles and films.
Her art and the work of Calder and the Op artists are the inspiration for pieces created by members of Orleans House Gallery's award-winning education provision (Art Clubs, Octagon group for disabled young people and the youth programme). This project has been generously supported by the Twickenham-based Double O Charity.
Flux, Flow, Flight: Art in Motion includes nearly one hundred works in a variety of media and styles. A large proportion of the exhibits were selected via open submission. Over 600 individual images sent to the gallery were pruned down to 60.
Contemporary artists include: Brian Adams, Mary Algar, Frank Armour, Peter Babb, Alyson Barton, Mary Bate, Patricia Burbidge, Lisa Bird, Juliana Borinski, Barbara & Zafer Baran, Joanna Ciechanowska, Catherine Cartwright, Vanessa Cuthbert, Ashley Davies, Aaron Distler, Yvonne Elvin, Jo Ellis, Valentina Ferrandes, Francesca Fowler, Andreé Holden, Roger Hutchins, Maggie Hughes, Camilla Jessel Panufnik, Jim Kay, Claudia Kappenberg, Hugh Lee, Tricia de Courcey Ling, Jackie Matisse/Jacqueline Matisse-Monnier, Brian McClave, Daphne Murray Brown, Lisa Payne, Gavin Peacock, John Reynolds, Paul Rogers, Margaret Sellars, Dorothy Szulc, Bill Urmenyi, Andrea Wright, Jon Wright, Martin Waugh, Fiona A-L Wright, Carol Wilhide, Chirstinn Whyte, Guy Yosephan.
Exhibition and Gallery Curator Mark De Novellis states: "This exhibition maps over four hundred years of motion in art, with a particular emphasis on early modernism and contemporary work. Artists have tried to capture the ephemeral in a multitude of ways and endeavoured to make the fleeting permanent."
The exhibition continues until 22 January 2012.