Eloquent Obsessions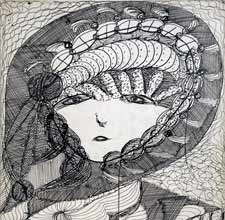 Psychic drawing (undated). Artist: Madge Gill. Henry Boxer Gallery, Richmond upon Thames.
30 August - 19 October
Orleans House Gallery in Twickenham is set to showcase the cream of international outsider and visionary artists in a forthcoming exhibition.
Seven years on from its groundbreaking show Private Worlds: Outsider and Visionary Art, which helped promote this previously marginalised form of creativity to a wider public, Outsider Art has become widely known through high profile exhibitions, recently the Inner Worlds Outside exhibition at the Whitechapel gallery, London.
Art critic Roger Cardinal coined the term 'Outsider Art' in 1972 as the English equivalent of Dubuffet's term 'Art Brut' (which translates as 'Raw Art' or 'Rough Art'). Outsider Art encompasses creative practitioners working outside of the artistic mainstream untouched by taste and fashion. These artists, which include people with mental and emotional issues, self-taught / naïve / folk artists as well as visionaries, often create work as a form of inner necessity or compulsion.
Eloquent Obsessions  is again a collaboration between Orleans House Gallery and the Henry Boxer Gallery in Richmond, the leading UK gallery of its kind.
Henry Boxer states: "Over the last decade, Orleans has actively promoted all forms of marginalised creativity - from Outsider and Visionary Art, artists with mental health issues, disabilities and artists within the autistic spectrum. They have not been afraid of staging these exhibitions and integrating works by these artists within their mainstream programme. I have contributed to a number of exhibitions since the pioneering show in 2001 and it amazing to see how far the public's perception has changed - and interest grown - regarding these forms of art."
Artists showcased in the exhibition include established outsider art 'Old Masters' Adolf Wolfli, Scottie Wilson, Edward Monsiel and a rare collection of late schizophrenic watercolours painted by cat artist Louis Wain in the Napsbury asylum during the 1930s.  Visionary or spiritual artists include detailed large-scale works by Vonn Stropp, psychic drawings by Madge Gill and the apocalyptic visions of Donald Pass.
Amongst the international outsider artists on display, highlights include fine examples by the enfant terrible of the outsider art world Henry Darger (1892-1973).  Also showcased are works by Garber, Hauser, Schopke and Fisher from the renowned Maria Gugging Psychiatric Clinic, located on the outskirts of Vienna, Austria.