Richmond Cemetery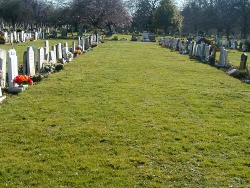 Situated between East Sheen Cemetery, Richmond Park and Grove Road, the cemetery opened in 1839. Richmond cemetery offers new graves - Traditional, Lawn and Cremated remains and has a Children's section.
The Chapel in East Sheen cemetery can be used prior to burial in Richmond Cemetery, and is suitable for people of all faiths and beliefs.
If you are attending a funeral by car, please drive in through the East Sheen Cemetery entrance and park inside the cemetery gates. When the funeral cars drive through, you can follow them to the graveside. If there is a service in the East Sheen Cemetery Chapel before the burial, please park on the roads around the Chapel building, making sure that the entrance to the chapel is kept clear for the funeral cars. You can then drive from the Chapel to the graveside.
East Sheen Cemetery Chapel has pushchair / wheelchair access and a wheelchair is available within the Chapel, if required. An induction loop has also been fitted.
Visits
If you have found a person using our Burial Registers Search, and would like to visit the grave/s, you can download a map of the cemetery.
As the cemetery is very large, you may wish to purchase a section plan for £2 which will help you to find the exact grave. The section plan can be posted, faxed or emailed to you. Please contact the Cemetery Office if you would like to take up this option.
Buses: 493, 33, 337
Contact the Cemeteries Team
We are open Monday to Friday from 9am until 5pm, excluding Public Holidays, Christmas and New Year.
The Cemetery Office
East Sheen Cemetery,
Sheen Road,
Richmond,
TW10 5BJ
Telephone: 020 8876 4511
Fax: 020 8878 8118
Email: cemeteries@richmond.gov.uk