Operation Lockout
The Community Safety Partnership is combating acquisitive crime by using SelectaDNA, a forensic property-marking scheme to protect household valuables. In the first four years of the scheme, the number of residential burglaries dropped 33%.
Burglary packs are given to all victims of domestic burglary and include a SelectaDNA kit and advice on improving home security. The initiative has also been adopted in areas of Holland, Germany, Belgium and Australia.
Read more about Operation Lockout
(pdf, 41KB)
Twice Lock It or Lose It campaign
Bike theft is one of Richmond borough Police's top priorities in 2013. Read our preventing cycle theft page for advice on keeping your bike safe.
If you don't remove it - you might lose it
A new Operation Lockout campaign and leaflet has been produced reminding residents to remove valuables from their cars, even when they are hidden or out of sight under the seat, boot or in a glove box. The campaign is aimed at reducing levels of theft from motor vehicles in Richmond upon Thames.
For more information about how to avoid becoming a victim of crime read these useful tips
(pdf, 106KB).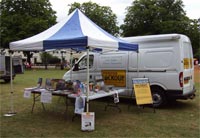 Crime prevention advice and security marking
Your local Safer Neighbourhood Police Team and the Operation Lockout Roadshow attend around 50 community events each year to offer free crime prevention advice, cycle security marking and mobile phone marking.
Friday 22 March 12 noon - 2pm. George Street, Richmond
Friday 19 April 12 noon - 2pm. George Street, Richmond
Wednesday 22 May 12 noon - 2pm. George Street, Richmond
Saturday 8 June 10am - 2pm. Marshgate School Summer Fair, Richmond
Thursday 20 June 12 noon - 2pm. Richmond Riverside below Whittaker Avenue
Saturday 13 July 9am - 4pm. Barnes Fair, Barnes Green SW13
All events may be subject to cancellation in bad weather conditions.
Cycle marking can also be done by contacting your local Safer Neighbourhood Police Team.
Keeping crime out of our borough advice leaflets
Seasonal advice
Contact the Community Safety Partnership
Kevin Fletcher-Biles
Operation 'Lockout' Project Coordinator
Community Safety Partnership
Telephone: 020 8831 6196 or 020 8891 7777
Email: k.fletcher-biles@richmond.gov.uk or community.safety@richmond.gov.uk
The Community Safety team's phone and mailbox are monitored during normal office hours. For assistance at other times, see the CSP A-Z of Frequently Asked Questions