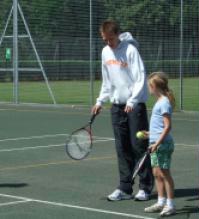 Coaching registration
We are improving the management and development of coaches and volunteers through the coach/volunteer registration scheme.
The updating of the scheme will bring our service in line with national guidelines and ensure the safety and welfare of children and young people involved in events and activities.
Registration procedure
Sports coaches and volunteers are able to register for free using the online form.
Once the form has been processed you will be registered as a London Borough of Richmond upon Thames coach, instructor or volunteer.
With your permission, you will be entered into a coach database which will be made available to the four council-run sport centres, Teddington Pools & Fitness Centre and the Sports Development Team. The database will provide information relating to coaching and first aid qualifications, additional qualifications, CRB clearance and Personal Indemnity Insurance where recommended.
Once registered on the database you will have access to discounted coaching and development courses and a regular newsletter which will include updates and information regarding the courses and workshops that are available.
Objectives of the registration scheme
Establish and maintain a database of active coaches and volunteers.
Identify development needs for active coaches and volunteers.
Provide for these development needs with opportunities for professional development and sharing best practice.
Ongoing support and development of sports coaching and volunteering in the borough.
Ensuring equality of opportunities for coaches and volunteers.
Registration scheme newsletter
Further information on coaching and volunteer development courses
Contact the Sports Development Team
Sports Development Team
Civic Centre
44 York Street
Twickenham
TW1 3BZ
Telephone: 020 8831 6133
Fax: 020 8891 7904
Email: leisure@richmond.gov.uk
Our office opening hours are Monday to Friday, 9am - 5pm.