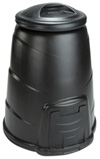 Available to buy at Townmead Road
Compost bin (size 220 litres) £11 each
Compost bin (size 330 litres) £13 each
Wormeries at discounted price of £42
Bagged, peat-free compost £3.60 per 40lt bag
Compostable sacks for garden waste £14 pack of 10
Bag support £3.50 to assist filling garden waste compostable sacks
Other materials deposited at Townmead are not available for sale or removal by visitors.
Household recycling containers are not available at Townmead. These can be ordered by using the online form or by telephoning 08456 122 660.
Free woodchip
Residents can make use of free woodchip that is available on site. Bring your own bag to fill and take away. Woodchip is donated by the Council's Parks and Open Spaces Department (subject to availability).
Call us to check availability as woodchip supply is seasonal 020 8876 3281.