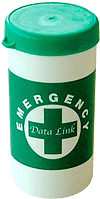 Datalink canisters
The Data Link canister scheme is for anyone living in the borough. This provides reassurance that essential information can be made readily available to the Emergency Services, and Care agencies, should you suffer an accident or sudden illness in your home which renders you unconscious or seriously confused.
The scheme ensures that vital personal data is easily accessible not only to identify you but also to advise of relevant illness, allergies and medication along with contact details of next of kin, neighbour or friend.
The scheme consists of a small clearly labelled, waterproof plastic container which is kept in the door of the household fridge. Placed in the container is a folded information sheet, which provides medical and personal details and a photograph relating to the occupier.
The fridge has been selected because it is the single most common, easy to find item in the average home.
To indicate the presence of this information a matching label (green cross) is fixed to the outside of the fridge door and a further label fixed above the lock on the inside of the main access door to the property.
Availability
These canisters are issued to anyone on request and are free of charge. To obtain one (or more) please telephone Community Safety Team on 020 8891 7777 or email community.safety@richmond.gov.uk