The Big Four-O: Highlights from the Richmond Borough Art Collection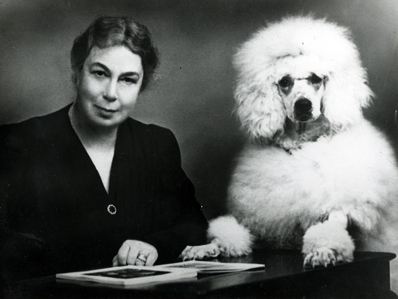 29 September - 25 November
This autumn, Orleans House Gallery celebrates its 40th anniversary, and commemorates 50 years since the death of its founder Mrs Nellie Ionides, through a fascinating new exhibition The Big Four-O. The free exhibition, which runs from 29 September until 25 November 2012, brings together 40 works from the Richmond Borough Art Collection selected by members of the local community. All of the individuals or family groups have some link to the Twickenham-based gallery, from visual artists, people in the museums and heritage sector, current and previous education participants, to dog walkers who enjoy the tranquillity of the grounds and woodland.
People who have taken part include photographer and granddaughter of Nellie Ionides Camilla Jessel Panufnik, her brother former MP Toby Jessel, Guardian columnist and writer Simon Hoggart and historian and presenter Bamber Gascoigne. The age range spans members of the gallery's after school art club, 10 year old Felix Chadwick Histed, the youngest artist to exhibit in the Royal Academy Summer show, to Hampton resident Joan Heath, now 94, who was present at the opening of Orleans House Gallery in 1972.
Each participant has worked with gallery curator Mark De Novellis in selecting a work from the Borough Art Collection – from local landscapes, portraits, to personal effects once owned by the 19th century explorer Sir Richard Burton. Artists include many renowned British painters from the 18th century to the present day, such as Samuel Scott to Lord Leighton. Continental artists include 19th century French realist painter Corot, who visited Richmond. Some of the selected works from the collection, which now numbers about 3,200 items, are being exhibited for the first time.
Once artworks were selected, participants worked with artist Ania Bas to create an interpretive panel which takes the form of the front page of a newspaper. Each individual selected a year in the gallery history and used the page to explore their links to the gallery and the reasons why they selected the work. Ania, who specialises in collaborative works, is particularly fascinated by language and communication, but works in a variety of media and styles. She states: "I enjoy blurring the edges of what art is and can be and who produces it." Ania has worked with a number of galleries and exhibited widely, including in the Worlds Together international conference at Tate Modern in September 2012.
Mark De Novellis states: "This exhibition is an interesting and imaginative take on the collection and the gallery's history. It links personal recollections and connections to the gallery and the collection over its four-decade history. Our collection, gallery site and activities, which go from strength to strength, are definitely worth celebrating."
The Big Four-O: Lindy Hop Night
Friday 23 November, 6pm - 9pm
FREE event
Dance lessons throughout the night and great swing tunes delivered by Mouthful O'Jam on 78rpm records. Don your finest 20s/30s outfits in celebration of the gallery's founder Nellie Ionides and come join the party!
Big 40: Lindy Hop flyer
(pdf, 225KB)