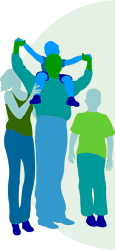 eCAF
The Common Assessment Framework (CAF) in Richmond upon Thames is supported by use of an electronic system called Holistix eCAF.
Practitioners who are working with children, young people and families as part of the CAF process can share information in a secure, efficient and appropriate way using this system.
If you are a CAF Lead Professional or TAC member working with a child, young person or family in Richmond upon Thames and are not currently an eCAF system user, you can book a course online.
Resources for practitioners
You can find additional support and guidance, as well as report any problems by visiting eCAF resources for practitioners.
For more information please contact the Single Point of Access (SPA)
Telephone: 020 8891 7969
Email: spa@richmond.gov.uk