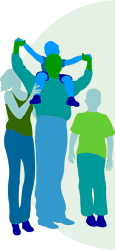 CAF Lead Professional
The Lead Professional is the practitioner who takes a lead role to ensure that front-line services are coordinated, coherent and achieving intended outcomes. This way all children and young people who require integrated support from more than one service will experience seamless and effective support.
He's been in touch with my counsellor, the housing group, the job centre and the benefits. He got quite a lot of people involved but people didn't come back to me they went back to him, so that was easier because I didn't have too many people coming back to me.
Young person, aged 16
The Lead Professional is not a job title or a new role, but a set of functions to deliver integrated support, for a time-limited period in relation to specific needs. The key tasks are to:
Act as a single point of contact for the child and the family
Coordinate the delivery of the actions agreed
Reduce overlap and inconsistency.
This role can be taken on by different types of practitioners in the children's workforce because the skills and knowledge required to carry out the role are similar, regardless of professional background or job.
It's about being trusted. Young people know I'm there if they need me to do something. I'll do my best for them. I will do what I say I'm going to do. I'm reliable. I'll stand my ground for them. I will go with them to support them, for example to the job centre. I don't make empty promises. I'm not an authority figure. I'm a human being.
Lead professional