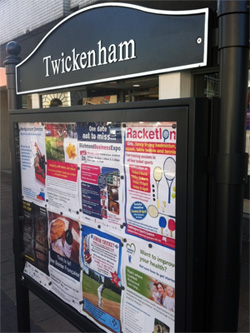 Community noticeboards
The 'Community noticeboards' provide information on the work of the Council and local communities groups together with details of local events and activities.
Previously there were nine Community noticeboards in a number of locations around the borough. They were very old and a number of them were broken or damaged. Last year Richmond Council agreed to replace all of these boards and install an additional seven in the villages that do not already have them.
Over the next six weeks Richmond Council is installing sixteen new boards around the borough so residents are up to date with local information and can see what is happening in the area in which they live.
Local community or resident groups, charities or not for profit organisations will then be able display information about an event or opportunity that people in the village/s would be interested in.
Installation should be completed by May.
Updating the boards
Please note that Communications no longer update the boards. Boards will now be updated weekly by the Libraries Facilities Assistant.
Before you send in your posters, please refer to the guidance with regards to acceptable subject matter, content, size and quality of posters.
Posters should be sent to:
Bernie McManamon
The Cottage
Little Green
Richmond
TW9 1QL
Telephone: 0208 734 3323
Email: bernie.mcmanamon@richmond.gov.uk
Locations
Below is a list of the sixteen community notice board sites around the borough and the acceptable formats for the posters displayed on them.
| Village | Type of board | Location | Number and size of posters |
| --- | --- | --- | --- |
| Barnes | Two sided board | On the corner of Church Road and Castelnau | 14 A3 posters (portrait) |
| Kew | Two sided board | Outside the Greenhouse Café, Station | 14 A3 posters (portrait) |
| East Sheen | Two sided board | Outside the Sheen Lane Centre, Sheen Lane | 14 A3 posters (portrait) |
| Ham | Two sided board | On Ham Parade outside No 37/41 Upper Ham Road | 14 A3 posters (portrait) |
| Richmond | Two sided board | Near to Jack Wills, Lower George Street | 14 A3 posters (portrait) |
| East Twickenham | Three sided board | Outside No 426/428 Richmond Road | 6 A4 posters (portrait) |
| St Margarets | Three sided board | Outside No 113/115 St Margarets Road | 6 A4 posters (portrait) |
| Twickenham | Two sided board | Outside No 1a/1b King Street | 14 A3 posters (portrait) |
| Strawberry Hill | One sided board | On the wall of the station facing Wellesley Parade | 6 A4 posters (portrait) |
| Teddington | Two sided board | Outside Boots on Broad Street | 14 A3 posters (portrait) |
| Hampton Hill | Two sided board | Near to Tesco Express, High Street | 14 A3 posters (portrait) |
| Hampton North | Two sided board | Outside Sainsbury's in main square | 14 A3 posters (portrait) |
| Hampton Wick | Three sided board | Outside No 37-43 High Street by the junction with Park Road | 6 A4 posters (portrait) |
| Hampton | Three sided board | On Station Road by entrance to Green | 6 A4 posters (portrait) |
| Whitton | Two sided board | Outside Tescos, High Street | 14 A3 posters (portrait) |
| Heathfield | Three sided board | Outside No 662 Hanworth Road | 6 A4 posters (portrait) |